I'm jumping off the wagon of "mom-thoughts" for one week and tagging in recipes. We all have to eat, right?!
So here we are, in the swing of things as full time working parents. We also get to enjoy the switching of my husband's shifts on a regular basis. Day shift, to night shift, to day shift… woof! Talk about never knowing our days and keeping our schedules straight when things keep changing so much!
One thing is certain, we both keep each other grounded with a side of humor, asking each other 3 times in one day, "what day is it today?" Or we are wide awake at 3 am listening to our son babble to himself and laugh together wondering what he thinks he is saying.
When it comes to dinners, we really like to make delicious meals and pride ourselves on making them better than what we can order out at times. So doing crock pot or instant pot dinners is not our wheelhouse. But we also don't shy away from ordering from our favorite Chinese restaurant here and there! (Shout out, Rice Inn in Bethel Park, PA!)
We found a few recipes that have been great to add to the nights when you come home and want to make something quick or is already done and is also a family favorite. (We weeded out a few bad ones for you by giving them a shot and struggling through the leftovers because I hate wasting food. Those do not need mentioned.)
They are instant-pot or crock pot recipes, but each of them have the instructions to make without using those handy dandy kitchen appliances that take up more space than you prefer.
If you would like the recipes, click on the name of them .
I have them linked to where I got them from!
The images are directly from their pages as well, but I will say,
mine all turned out looking very close to their pictures!
---
This one is a big time favorite and has been made multiple times by us and my parents for family dinners at our lake house. It's super quick and easy and everyone loves a good pasta dish! If you do have the instant pot, it's one that is true to the time they tell you! (some are big fat liars and they take forever and a day to come to temp) My mom has only made it in a pot on the stove and still says it's quick to complete.
---
This one we make a lot too! It was found because my dad is on a no salt diet due to his heart surgery this summer. So among that, our family has found a few heart healthy recipes to make. It might be the closest oriental recipe we have ever made at home that tastes like something you could get for take-out or in a restaurant. You can use frozen veggies for this too. We throw a side of jasmine rice with it. If you have everything for it, it may take you 25 minutes total to do it all and have it on the table.
One other thing for this recipe, we use Coconut Aminos for the low sodium soy substitute. It's a no sugar and no salt item that tastes just like soy sauce but without the added items you don't necessarily need. You can snag this on Amazon, in Whole Foods, and I believe Trader Joe's too.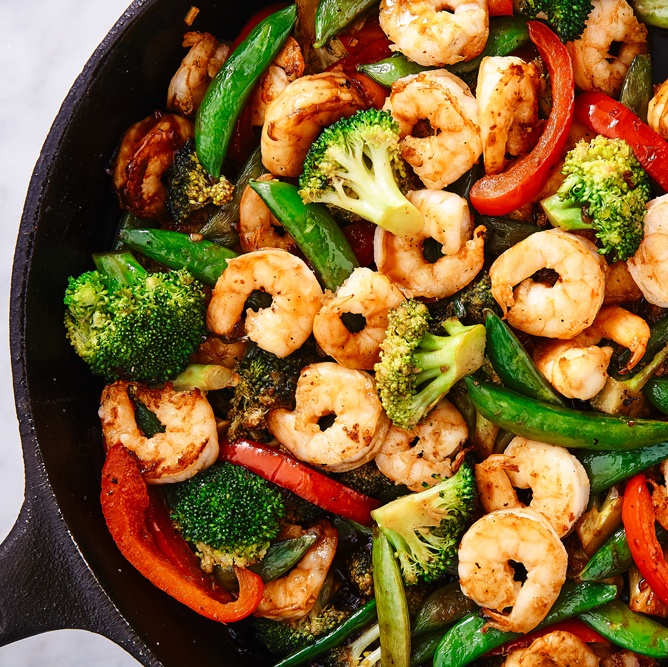 ---
Slow Cooker Sausage and Potato Casserole
This was one of Blake's favorites we made. It is hearty and sticks to your ribs! It would be perfect for the cold nights coming up. I made the mistake of trying to figure out how to "instant pot" the recipe the evening we made it because I totally forgot to throw it in the crock pot that morning. Well, I'm not an instant pot queen yet so I can't tell you if the time is true or not for the start to finish but it did taste good!
This recipe is enough for us to have it two days. I added a little bit of Frank's Red Hot hot sauce to mine and a shake of Parmesan cheese, because everything is better with both of those!
---
Here is another low sodium quick meal we approved! Also, another that can be done without the instant pot. If you haven't caught on, my mom and I pass along recipes to one another and we usually always try different ways of doing things. This one is a dump and go kind of situation! Frozen veggies again are even suggested in this one. We all know anything to make a working parent's evening a little easier is always best!
However, save yourself the time and buy the regular spaghetti noodles and don't waste the 15 minutes in the grocery store trying to find lo mein noodles in the international food isle. It is as good, if not better, with the spaghetti noodles and they don't seem to stick as bad.
---
This recipe is one from my vault of my personal favorites. It is always delicious to me and easy! This was written in 2010 in a blog and I have the link emailed to myself so I never lose it even though I have also written it on a recipe card in my recipe box!
My only tip is to rinse all of your canned beans and corn if you're not buying it frozen. It'll get rid of that salty water they are sitting in. It's something you can put in the crock pot and let it do it's thing! The chicken needs to be shredded with two forks when you come home and voila, it's done! You can always add the goodies if you choose like sour cream, jalapenos, or cilantro too.
Those are our recent favorite quick meals. I'm sure we will add to this and would actually like it if you could share some of yours with us! We would love to try other's family favorites and add them to our list so we don't get bored with the same recipes over and over again!
I hope you enjoy them if you do happen to try them!